LH-SYSTEM Stand-Alone
Circulating air units for installation in small spaces, such as garbage rooms, laboratories, offices, smoking rooms, wellness spaces, etc.
For reduction of pollutions such as germs, bacteria, fungi and odours.
LH - UL 250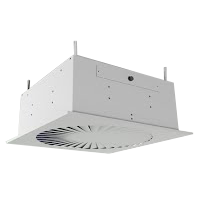 Circulating air unit for ceiling installation.
Technical data:
air performance:
adjustable up to 250 m³/h
prefilter:
F5
filter surface:
0,09 m²
unit size (lxwxh):
570 mm x 570 mm x 250mm
outlet (lxw):
623 mm x 623 mm
Ø outlet:
Ø = 540 mm
connection:
230 V / 50 Hz
power consumption:
90 - 100 W
housing:
galvanized steel
colour of housing:
RAL 9010
weight:
ca.18-20 kg
sound pressure level:
max. 44 dB(A)
ions:
0-20 Mio Io/sek
ozone:
0-120 mg/h
The LH-UL250 is composed modularly and can be equipped individually with ionizers and ozone generators. It can be comfortably operated via remote control.